The Services!
Bloom Blowout:  Luxurious shampoo, blow dry, and choice of style – 45-60 mins. / $45*  (see below)
Themed Hair Style: Decade themes (70's, 80's styles), Hollywood Waves, etc -60 mins. / $65
Braid:  Add a pretty single braid to your blowout  / $10
Half Updo or Special Event Styling:  Luxurious shampoo, blow dry, either a half-up style, coiffed ponytail or special event/theme type style / $65
Updo:  Luxurious shampoo, blow dry, all pinned up and styled to perfection / $85
Little Blossom Blowout: For under 10 beauties, gentle shampoo (optional), blow dry and style with choice of hair flair  / $40
Blooming Bride:  Luxurious shampoo, blow dry, up-styled to perfection, includes  2 appts: 1 consultation style and 1 day-of style  / $200
For the Men: Luxurious shampoo, 5 minute relaxing scalp massage, blow dry and style / $35
Set Your Extensions:  Add-on to blowout service. Bring in your own set of clip-in extensions and have us set them  / $20  *per set, max 5-6 pcs
*Updo Notes: If the stylists determines that your hair should not be washed in order to help the hair stay intact and styled perfectly, the price does not change.
*Blowout Note: We allocate up to 60 minutes for this service, if you think your hair may take longer due to length, thickness or curls, please call the salon to book your appointment so that we can set aside the proper amount of time needed. We offer free walk in consultations if you are unsure. Blowouts requiring 75+ minutes are $90 as our pricing is directly correlated to the time and talent it takes to perform the service. Thank you for understanding.
Tape-in Hair Extensions Service
Hot Heads Hair Extensions: Come in for a quick consultation with one of our Hot Heads Certified Stylists, then we order your hair extensions in the salon based on what you and your stylist decide on in terms of length, thickness, and color. Your Remy real human hair would arrive in a day or two. Your extension application appointment will take about an hour and a half. *PLEASE COME IN WITH CLEAN HAIR FOR EXTENSION HAIR INSTALL. Our stylists will do a quick blending of your hair if needed. We will not color, cut, or perm your extensions. / $150 -Flat Rate (not including hair extensions; price for hair extensions will be in the salon after your consultation).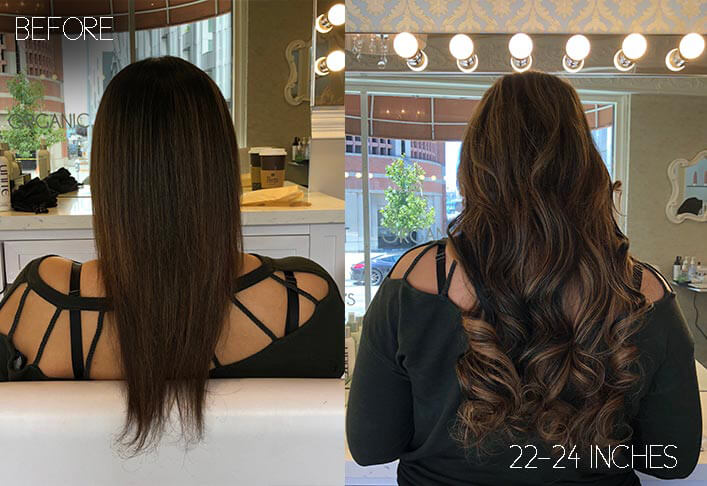 The Treats!
Relaxing Scalp Treatment: Rejuvenating and relaxing scalp massage added to your hair service / $10
Instant Reconstructive Treatment:  Intensive hair reconstruction treatment added to your hair service / $20
Keratin Treatment (Formaldehyde-Free!!) – NEW!
Our Keratin Treatment is the safest, most innovative, high quality professional treatment to remove frizz and control your hair for up to 2-3 months. Our Keratin Treatment contains quality ingredients proven to raise the integrity of the hair with out harmful chemicals. Service includes keratin treatment application, wash, blow and style. – Up to 2 hours/ $299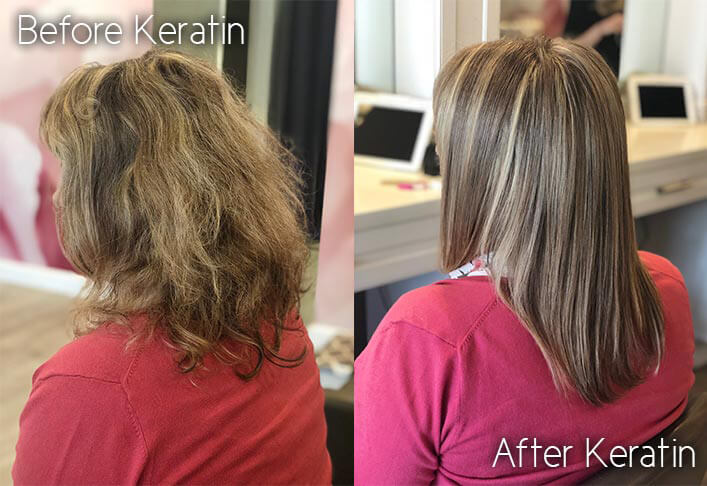 On My Tab!
3 pack of Bloom Blowouts  /  $126  *NEW CLIENT ONLY
5 pack of Bloom Blowouts /  $210   *each blowout is just $42!
10 pack Bloom Blowouts /  $400  *each blowout is just $40!
"VIP BLOW OUT" Monthly Membership
$80 a month recurring charge, you receive 2 Bloom Blow Outs a month
Additional blow outs is discounted to $38 each
10% off products
10% off any other services within the Organic Shimmer/Bloom family
Unused blowouts rolls over and accumulates
Cancel anytime
In order to cancel membership, YOU MUST EMAIL US AND RECEIVE A CONFIRMATION TO CANCEL. Texting, calling, or in person cancelling is not permitted. No exceptions.